 ROSINA HISLOP
BOARD DIRECTOR & AICD FACILITATOR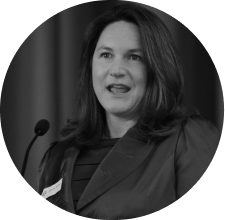 ABOUT ROSINA

____________

Rosina is an experienced Chair and Board director, as well as a national facilitator with the Australian Institute of Company Directors (AICD).

She is an AICD Fellow and serves on the Boards of organisations across health, education and aged care.

In recognition of her governance expertise, Rosina contributed to and now facilitates the AICD course: Governing to Protect Vulnerable People.

A Chartered Accountant and former partner at Ernst & Young, Rosina has an executive background leading global companies in corporate strategy, finance and business model innovation.

During her executive career, Rosina was the lead commercial advisor on the sale of a $12 billion global hotel business and led major projects for clients across Australia, Asia and the United States.

Rosina is a strategic thinker who is passionate about using corporate governance to create enduring value for companies, their customers and society.
CORPORATE GOVERNANCE

______________

High performance organisations are founded on good corporate governance.

Quality decision making goes beyond having the relevant skills and structures at the Board and management. Good decision making processes, in combination with an aligned culture, are essential to enhance the dynamic of the Board and build trust and confidence with members, shareholders, employees and other stakeholders.

Rosina works with the Board and management to design a pragmatic approach to governance that is contemporary and fit for purpose, with the overarching objective to enhance company performance and stakeholder engagement.
BOARD PERFORMANCE REVIEWS

______________

High performing Boards are committed to continually improving. An independent Board review and its recommendations are an important step to identify and affirm what is working, as well as to identify areas of focus. This is an important accountability in setting the tone from the top.

Rosina has designed and developed a tried and tested approach to Board reviews, which she has successfully applied both as a serving Board member and for her clients. The experiential process is designed to realise the full potential of the Board and contribute to company performance.
STRATEGY AND RISK

______________

Traditional strategic thinking typically involves a detailed current state analysis to create a compelling future state and a detailed plan on how to get there.

However, that approach typically fails when facing complex problems like those facing businesses today. Accelerated market trends, disruption and changing consumer demands mean that formulating the future state requires strategic foresight and a willingness to explore alternative futures that range from probable, to possible, to plausible, to preposterous. Developing and assessing strategic options requires the Board and management to look at the future with tomorrow's eyes.

In doing so, directors and management need to weigh up strategic opportunities against risks, take calculated risks and decide and monitor the company's risk appetite.

Rosina is an experienced facilitator in making strategy sessions stimulating, interactive and enjoyable. She works with clients to set the agenda, ask challenging questions, probe to identify risks and help the team select their strategic path.


THOUGHT LEADERSHIP

______________

Board Governance in the Aged Care Sector
Rosina created this director's tool for the AICD to assist Boards in the aged care sector.

Access Tool
Clinical Governance for Boards in the Aged Care Sector
This tool examines clinical governance within the broader governance framework and the Board's role in its oversight.

Access Tool